SPECIAL ANNOUNCEMENT FOR THE RETURN OF THE WARBLERS ON GLEE 1/31
The Warblers are returning to Glee on January 31st for Episode 3x11 - The Michael Jackson Episode. Are you as excited as Grant Gustin's Runaways and Warblers_OHYEAH is? To show our excitement, we are partnering once again to bring you this special announcement!




On January 31st, starting at 7:30 PM EST, in honor of The Warblers return and what the media is calling Grant's "breakout," we want each of YOU lovely Warbler and Warblerettes out there to TREND #GrantIsASmoothCriminal. (Grant will be performing that song during the episode.) I'm sure The Warblers will be trending anyway (Glee fans dominate Twitter) so let's also do something special for Grant! We have TWO WEEKS to spread the word to as many fans as possible.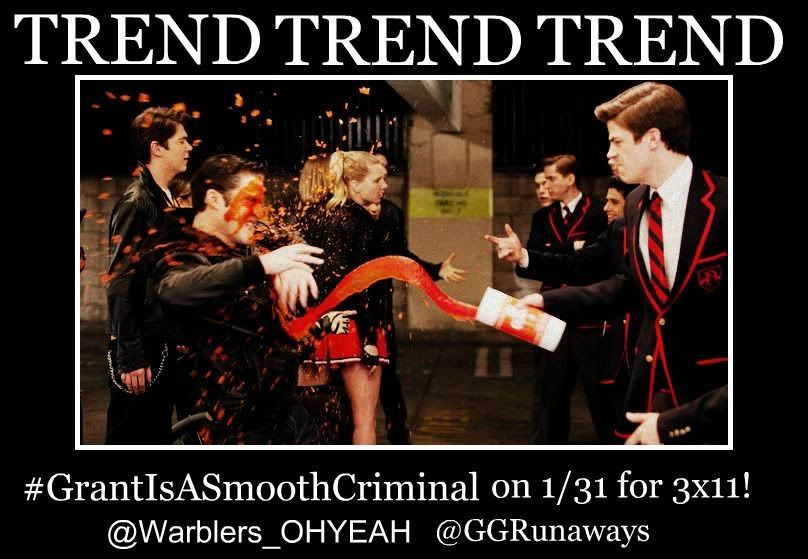 See our #GrantIsASmoothCriminal Promotional photos? Repost them everywhere! We also want to see your own photos! Slap on #GrantIsASmoothCriminal on any Grant photo and send it our way! (We'd also love it if you'd include at least one of the Twitter accounts below on the photo!)




Be sure to follow us on Twitter!
@Warblers_OHYEAH
@GGRunaways
GGRunaways on Facebook.

3x11 MJ Promo